UPDATE: the photos have just been published and can be viewed at: https://dsmag.in/2022/09/28/phil-temples-mini-album-abandoned-industry/.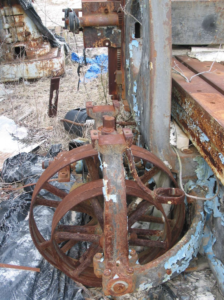 The market Doublespeak Magazine has accepted several of my color photographs from my "Abandoned Industry" collection.
I took these photographs while trespassing on the property of an abandoned stone cutting company in March, 2005 near Bloomington, Indiana. They were shot using an inexpensive Canon PowerShot G2 camera.
Doublespeak Magazine "[…] provides a space for images, photographs to be precise, where one can express the abstraction through a process of mere documentation."