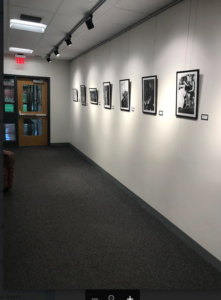 The Art Club Boston College student organization is hosting an art show during the month of November in Carney Hall. Artwork produced by faculty, staff and students will be on display. The club is hosting a reception on opening night (tonight, November 1) in Gallery 203 at 7:30 PM.
A dozen of my color- and black-and-white photographs currently adorn the walls along the corridor on the first floor of Carney outside of rooms 103 and 104. If you enter the door in the northeast corner of the building, turn left, then immediately right, you'll see my photos lining the left wall.
I'm actually kind of excited about the display! The photos are well-lit with numerous spotlights. The students did a great job with the presentation.