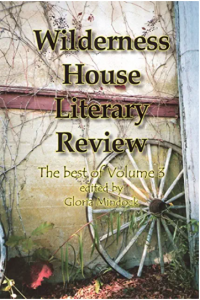 I've taken on the role of Fiction Editor for the Wilderness House Literary Review from Ian Halim, who is relocating to Pittsburgh to embark upon the next chapter of his career. God speed, Ian!
The next WHLR submission window closes on September 1, 2023. Here are the submissions date and guidelines as listed on the website:
Deadlines are as follows
March 1 – Spring
June 1 – Summer
September 1 – Autumn
December 1 – Winter
Please read this section before submitting work.
Please include some form of identification in the work itself.
All submissions must be in electronic form. Our preference is an MS Word fileuploaded through the system below. Please do not send us pdf files. We can't use them.
By submitting work to us you grant us a non-exclusive license to publish your work in any form we see fit. You may withdraw a submission up until the issue deadline (see above).
We don't pay so you retain all copyrights. If we publish your work online we may include it in a printed edition.
Poetry may be submitted in any length. Please don't submit 100 poems and ask us to pick 3.
Fiction may be submitted in three formats:
very short stories less than 500 words in length
short stories less than 1000 words in length
Short stories that don't fit the above should be less than 3000 words.
We also accept longer forms of fiction occasionally.
Please, one fiction submission only per author, per issue. If you submit multiple stories for a single issue, we reserve the right not to review additional stories you submit after the first one.
Non-Fiction is just that so lets see some interesting footnotes. Non-fiction should be short, (a lot) less than 5000 words
Book Reviews should be positive unless the author is a well-known blowhard. Our mission is to encourage literature not discourage it..
Art: Minimun of 6 pieces. Please incluce a bio and statement about your work. Any form of art may be submitted with the constraint that it must be something that can be published in 2 dimensions. It's hard to publish sculpture but illustrations together with some intelligent prose count.
Published works are welcome with proper attribution.
Please submit all works electronically. Click here to submit to Wilderness House Literary Review.